UNHRC Report Demonizes Israel – Again
"A fact-finding group created by terms of reference that seek to direct its conclusions is essentially a waste of time. Its findings, at most, will reassure those whose minds are already made up." (Prof. Thomas M. Franck)
The United Nations Independent Commission of Inquiry (COI) on the protests in the Occupied Palestinian Territory presented its findings on 28th February 2019. The report focuses on the demonstrations in the Gaza Strip, referred to as the "Great March of Return and the Breaking of the Siege". "The Commission has reasonable grounds to believe that during the Great March of Return, Israeli soldiers committed violations of international human rights and humanitarian law. Some of those violations may constitute war crimes or crimes against humanity, and must be immediately investigated by Israel," said the Chair of the Commission, Santiago Canton of Argentina. (Source: UN press release)
The Commission was mandated by the Human Rights Council in May 2018 to investigate all alleged violations and abuses of international humanitarian law and international human rights law in the Occupied Palestinian Territory, in the context of the large-scale protests that began in Gaza on 30 March 2018. Acting Foreign Minister Israel Katz said in a statement that the UN Human Rights Council had "produced another hostile, mendacious and slanted report against the State of Israel … No one can deny Israel the right of self-defense and the obligation to defend its citizens and borders from violent attacks."
The independent human rights group UN Watch has released its initial response to the UN Commission of Inquiry's report accusing Israel of "crimes against humanity" against so-called "peaceful protesters" at the Gaza border. UN Watch engaged in a lengthy correspondence with the inquiry, and expressed disappointment that its detailed submissions of law and fact — including a lengthy submission (summarized in official UNHRC Written Statements here and here) — were almost entirely disregarded.
Report of the independent international commission of inquiry on the protests in the Occupied Palestinian Territory – A/HRC/40/74 (Release Date: 28 February 2019) English PDF | Word )
Background according COI
On 7 January 2018, Ahmed Abu Artema, a 34-year-old Palestinian poet and journalist, posted on Facebook the idea of a non-violent march at the separation fence, to draw attention to General Assembly resolution 194 and to the dire humanitarian situation in Gaza. In the post, ending #GreatMarchofReturn, he wrote, "what if 200,000 demonstrators marched peacefully and broke through the fence east of Gaza and entered a few kilometres into the lands that are ours, holding the flags of Palestine and the keys to return, accompanied by international media, and then set up tents inside and established a city there." (Page 6)
In 2011, Ahmed Abu Ratima (or Rteima aka Artema), whose family originally came from Ramle, conceived the idea of Palestinians going peacefully to the separation barrier in protest for their right to return to the homes from which they had been driven, or had fled. So the the idea of a nonviolent march toward the border was thought up as early as 2011 by Ahmed Abu Arteima a spokesperson for the "Great March of Return" before and during the implemented "March Campaign". The idea of mass "marches of return" was tried a number of times between 2011 and 2013, and were organized by Hamas activists in Britain and other anti-Israeli activists around the globe participating in the campaign to delegitimize Israel.
For example on 30th June 2012 In the northern Gaza Strip (Beit Hanoun, near the Erez crossing) several thousand Palestinians held a demonstration. Zaher Birawi, a Hamas activist in Britain, said that the activity had been quite successful but the organizers were "realistic." He said they were aware that had it not been for "weak spots in several Arab-Muslim countries," many more people could have participated. He consoled himself with the fact that it had been the first step towards the next time and that the marches had caused Israel to be on high alert, which had cost a great deal of money. He called on various people to exert pressure on their regimes and said that all the organizations of the march would meet in the near future to formulate a working plan for the future (al-Aqsa TV, March 31, 2012).
One of the activists involved in media preparations is Zaher Birawi, a Palestinian activist based in Britain who is affiliated with Hamas and the Muslim Brotherhood; Birawi, chairman of the International Committee for Breaking the Siege on Gaza, provided on 5th September 2017 a stage for activity planned in the Gaza Strip on the Muslim Brotherhood-affiliated al-Hiwar TV channel, which broadcasts from London and where he is program director.
Asked whether ships would sail to the Gaza Strip in the near future, he answered it had been decided in principle to continue to try to break the "siege" by sea. He said the Freedom flotilla coalition was examining a plan to send one or more ships during the summer of 2018. They were currently discussing details and how to ensure success. He said the flotillas' main goal is propaganda aimed at keeping the Palestinians, the Gaza Strip and the "siege" as "live" topics in international public discourse. According to Birawi, the objectives of the flotillas are to defame Israel, and to increase the effect of the political and media campaigns accompanying the flotillas.
Context according COI
The "great march" entailed weekly demonstrations by Palestinians near the fence that since 1996 has separated Gaza and Israel (along the Green Line traced by the armistice agreements of 1949), demanding that the blockade imposed on Gaza be lifted and the return of Palestinian refugees…By 2015, the Israeli blockade and restrictions on entry and exit of goods and people had halved the GDP of Gaza and reduced it to a humanitarian case of profound aid-dependency… (Page4)
First one should mention that the takeover by Hamas in 2007 led not only Israel but Egypt as well to impose a land, air and sea blockade on the Gaza Strip. The purpose is to prevent arms, missiles and materials to build weaponry enter to Gaza. Egypt has destroyed over thousand smuggling tunnels from Gaza to Sinai during last years. (More e.g in Gaza Blockade – It's Egypt not Israel! )
The real background might be, that Israeli-Palestinian conflict has stepped aside for other Mideast conflicts, such as Syria, Iraq, Yemen, Iranian-Saudi and Shiite-Sunni proxy wars. To bring the Palestinian case back to the agenda and media headlines the new innovations are needed, the ongoing "knifeintifada" in Judea and Samaria and occasional quassam-fire fro Gaza are interesting issues only in Israel, the Western mainstream media has more newsworthy material elsewhere.
An sure there has been political aims, like COI claims in their report, but those aims seem to be different than COI has in mind. The idea was motivated by Hamas' strategic hardship, at the center of which is the economic deterioration of the Gaza Strip, for which Hamas cannot provide a solution. Other motivations are the stalled internal Palestinian reconciliation; Israel's success in striking the tunnels entering Israeli territory (Hamas' main asset for the "next round"); Hamas' difficulties with Egypt (the Rafah crossing is still closed most of the time) and with other Arab countries.
Besides internal propaganda in Gaza the march was directed at Hamas's rivals as well as Israel. Hamas wanted to send a message to the Palestinian Authority, which is learned from the "Palestinian Papers" was prepared to compromise on the demand that five million Palestinian refugees be given the opportunity to return to "their homes." Palestinian negotiators know that Israel will never agree to allow millions of Palestinians who claim to be refugees to flood Israel. Hamas, however, insists the refugee issue is non-negotiable.
The report places all responsibility for the current impasse in peace negotiations on Israel. In fact, the Palestinians have rejected every peace plan ever offered to them since before the founding of the State of Israel in 1948. Most recently, the Palestinians rejected former Prime Minister Ehud Olmert's 2008 peace plan. Placing the blame for lack of peace exclusively on Israel rewards Palestinian rejectionism and Hamas terrorism, undermines Israel's right to self-defense, and makes a negotiated two-state solution much more difficult to achieve.
A peaceful non-violent march?
In the commission's view, the demonstrations were civilian in nature, had clearly stated political aims and, despite some acts of significant violence, did not constitute combat or a military campaign. (Page 8)
Some activities, such as the launching of incendiary kites, cutting barbed wire or tyre burning, began to be organized by self-declared "units", some of them through their own Facebook pages. The commission found no evidence to suggest that they were directed or coordinated by armed groups. (Page 14)
In February 17th 2018, four IDF soldiers were injured by an explosive device concealed in a Palestinian flag placed on the Gazan border fence during a Palestinian protest.
On 25 March, the IDF fired some ten Iron Dome missiles to intercept what the IDF sensors interpreted to be rockets, but which later turned out to be high-trajectory machine-gun fire during Hamas military exercises conducted in Gaza, which early reports said was directed towards Zikim.
In the week prior to 30 March, the IDF arrested a suspect who crossed into Israeli territory from northern Gaza; 2 Palestinians were seen near the now-defunct Karni crossing container port trying to set fire to army engineering equipment close to the border fence; a group of four Palestinians infiltrated Israel near Kissufim; and 3 Gazans, armed with grenades and knives, crossed the border and were captured some 20 kilometers (12 mi) from the border, near Tze'elim. (Source: Wikipedia )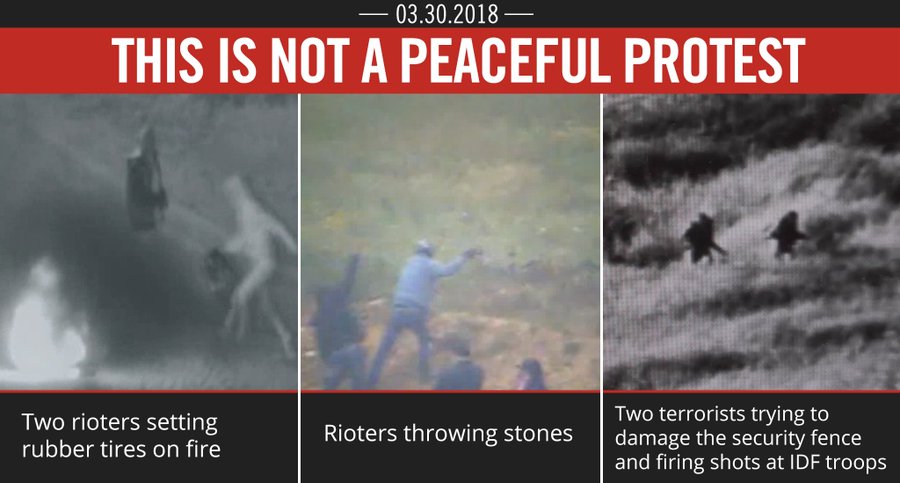 Israel Defense Forces: This is what Hamas claims to be a peaceful protest
There is a lot of examples about incitement to terrorism and genocide by Hamas leaders, few quotes (Source: UN Watch):
Hamas Gaza leader Yehya Sinwar shouts: "We will tear down the border and we will tear out their hearts from their bodies." (Al-Jazeera, April 6, 2018)
Hamas leader Ismail Haniyeh says: "Palestine and Jerusalem belong to us…We will break the walls of the blockade, remove the occupation entity and return to all of Palestine." (Times of Israel, April 9, 2018)
Hamas leader Ismail Haniyeh says: "Our people will outnumber the occupation and force it from our land." (Chicago Tribune, April 20, 2018)
Hamas Gaza leader Yehya Sinwar rallies the crowd: "We would rather die as martyrs than die out of oppression and humiliation…We are ready to die, and tens of thousands will die with us." (New York Times, May 9, 2018)
Hamas official Fathi Hamad calls on Muslims: "to kill 'Zionist Jews' wherever they find them." (Times of Israel, July 26, 2018)
Other Hamas admissions showing border violence is part of ongoing armed conflict between Hamas and Israel, and is instigated and supported by Hamas (Source: UN Watch):
Hamas spokesman Hazem Qassem admits that Hamas pays $200 to $3,000 to the families of Gazans killed or wounded in the rallies. Hamas website (quoted by MEMRI, April 5, 2018)
Hamas co-founder Mahmoud al-Zahhar admits to Al Jazeera that calling the border protests "peaceful resistance" is "deceiving the public." (Al-Jazeera quoted by MEMRI, May 13, 2018 statement)
Hamas Politburo member Salah al-Bardawil admits in TV interview that 50 out of 62 people killed on May 14 were Hamas members, and more than 50% of those killed at border since March 1 were Hamas members. (Baladna TV quoted by MEMRI and Meir Amit Intelligence and Terrorism Information Center, May 14, 2018)
Hamas press release admits that the marches are being conducted by "the organizations of jihad fighters," and managed and supervised by "combat organizations," concluding "This is jihad — victory or causing death in the way of Allah." (Hamas press release published by Jerusalem Center for Public Affairs)
(Source: UN Watch )
The Israel Air Force dropped leaflets over the Gaza Strip warning again Palestinians not to approach the Israeli border on May 15, 2018
Protected groups
The commission investigated also victims who are entitled to special protection under international law, such as journalists and persons with disabilities. One example happened on 6th April:
Yasser [Murataja], a journalist from Gaza City, was shot in the lower abdomen by Israeli forces at the Khan Younis site while he was filming the demonstrations for a documentary. (Page 24)
The report forgot to mention that filming was made e.g. by drone-camera and the drone was Israeli side above IDF soldiers who so came in danger as their locations were uncovered. In addition Murtaja had a double identity: in addition to being a media person, he was also an operative in Hamas' security forces. .
Other example from 13th April:
Ahmed [Abu Hussein], a journalist from the Jabaliya refugee camp was shot by an Israeli sniper in the lower abdomen at the north Gaza site while he was taking photographs of the demonstrations… He died of his injuries 12 days later. (Page 24)
An examination of Ahmed Abu Hussein's identity revealed that in addition to being a media person, he was also a PFLP member. That was manifested in several ways: the PFLP's military wing issued formal death notices for him; at his funeral red PFLP flags were carried; and the Ahmed Abu Hussein's Facebook page posted notices glorifying the PFLP, its leaders and terrorist attacks (such as the assassination of Israeli minister Rehavam Ze'evi).
Remark: Also this PFLP terrorist ( Ahmed Abu Hussein) got treatment in the Intensive Care unit in the Tel Hashomer hospital in Israel!
Also the report claims that
The Israeli forces also unlawfully shot other demonstrators with disabilities, [such as] Shadi Kashef (23, hearing disability) and Tahrir Wahba (18, hearing disability) (Pages 25-26).
It is nearly impossible for sniper to know if some person – potential thread – has hearing disabilities. To prevent this kind of accidents IDF distributed leaflets to Gazans, in Arabic, to stay away from the security fence and not to jeopardize their lives.
Violations of international human rights, war crimes, crimes against humanity?
The shooting by Israeli security forces of Palestinian demonstrators with high-velocity weaponry at close range resulted in killings and long-term, life-changing injuries, including paralysis and amputations. Although this was well known as early as April 2018, Israeli forces continued this practice throughout the period under review. Using such weaponry at short range, and justifying it by the need for accuracy at long range, indicates a disproportionate use of force. (Page 30)
The COI's statistics for injuries and deaths of Gazans resulting from Israel's use of live ammunition come from sources inside Gaza, mostly from the Hamas run health ministry, and are difficult to independently verify. In some cases, reports claimed protesters were killed by Israeli fire when actually they were killed by their own fire or explosives (see e.g.here).
The right to life includes the right to a life with dignity. As the occupying Power, Israel has obligations under international law to ensure the health and welfare of the Palestinian population. The commission found that the ongoing blockade of Gaza and its impact on the health-care system in Gaza, and the ensuing deprivation of essential goods and services necessary for a dignified life, including basic medical supplies, safe drinking water, electricity and sanitation, constitute violations of the fundamental rights to life and health, in particular of wounded demonstrators. (Page 31)
Few comments:
Israel didn't block humanitarian aid to Gaza. In opposite "peaceful demonstrators" attacked to Kerem border-crossing to prevent israeli and international aid cross the border to Gaza.
Also during the riots as always before many Gazans got treatment in Israeli hospitals.
Some medical supplies were used for other purposes, e.g. helium supposed to use in operational rooms in hospitals was used to fill ball-bombs.
Infrastructure in Gaza is in bad condition despite huge international aid as Hamas has used donations for benefit of ruling elite, materials supposed to build homes and public services have been used to build attack-tunnels against Israel, so blaming Israel or blockade is unfair.
However…
The commission found that, on 14 May, at least one gunman fired a weapon at the Israeli forces from within or near the demonstrations at a temporary demonstration site in North Gaza. Firing from the vicinity of a crowd of unarmed demonstrators endangers civilian lives and risks violating the principle of distinction under international humanitarian law. (Page 31-32)
Note words "at least".
Hamas terrorist who reached the border fence between Gaza and Israel caught on camera explaining how Hamas forces civilians to participate in violence against Israel.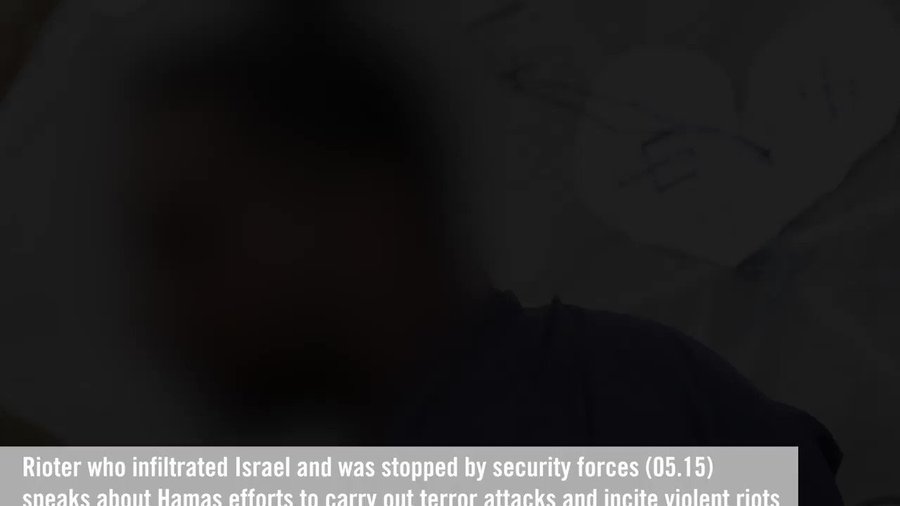 #HamasLied pic.twitter.com/gYF954ufWc
— IDF (@IDFSpokesperson) May 16, 2018
Bottom line
In 2005, the Palestinians of Gaza had a choice. They could have used their newly acquired freedom to build a strong economy in that coastal and fertile land, or they could have used that freedom to fight Israel. The fact that they chose the latter is not Israel's responsibility, but it is not too late for Gaza's Palestinians to choose a different path; e.g this: Hudna – The Hamas-Israel deal – on the Way.
As before, the UNHRC once again has proven itself to be a body made up of a built-in anti-Israel majority, guided by hypocrisy and absurdity. Israel has not cooperated with COI as its task de facto was to impair Israel's right to self-defense, and to demonize the Jewish state.
Removing all context from the events, and erroneously characterize them as "protests," "peaceful," and "civilian," the report lacks any credibility; its proper use is to collect dust in archives among other similar UNHRC reports and high-flying, biased statements.
Israel and Hamas have been engaged in an international armed conflict and also the current events – violent or non-violent – are part of that armed conflict. Indeed while describing "The Great Return March" as a media-campaign, I would like to transform the famous quote by von Clausewitz into form: Politics is the continuation of war by other means.
Some of my previous related articles:
Israel's Gaza Options – War or Ceasefire?
Some Aspects About "The Great Return March" Campaign
"The Great Return March" Campaign Starts 30th March 2018
Western Donors Still Funding Terrorists
Hamas and Israel on Verge of the Deal
Gaza State Under Construction, West Bank Remains Bystander
Gaza Update: Hamas Downfalling – IDF Prepared
Gaza Blockade – It's Egypt not Israel!
Hamas' Relations With Egypt Worsened
---
This article first appeared in Conflicts by Ariel Rusila -blog